Rinka
Rinka series with an earthenware texture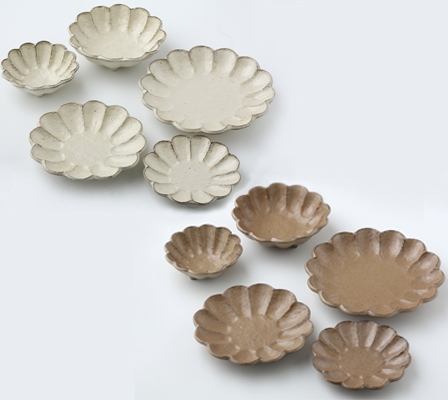 This product is porcelain, but you may feel the texture of earthenware as well as the warm impression and appearance of a handmade plate. Rinka plates are dishwasher safe and microwavable to the point of being warmed. It matches both Japanese and Western cuisines. Have a delightful dinner with Rinka!
Manufacturer
KANEKO KOHYO POTTERY MFG.
URL
E-mail
Product Information
Material: porcelain Mino Ware Japan
Size:
Hassun plate - Diameter245× H33mm
Nanasun plate - Diameter215× H25mm
Rokusun plate - Diameter175× H30mm
Yonsun plate - Diameter145× H25mm
Rokusun bowl - Diameter165× H50mm
Yonsun bowl - Diameter125× H45mm
Color:
white and brown in 6 shapes, a total of 12 items

Comment
- It is dishwasher and dryer safe.
- You can put this item in a microwave to warm it for a short period of time. Do not heat it for long, which may cause it to break.
- It is not oven safe.

CER008203