Mino Shirakawa Tea in a Japanese Paper-Coated Mini Box
A set of Mino Shirakawa tea and a mini box covered by Japanese paper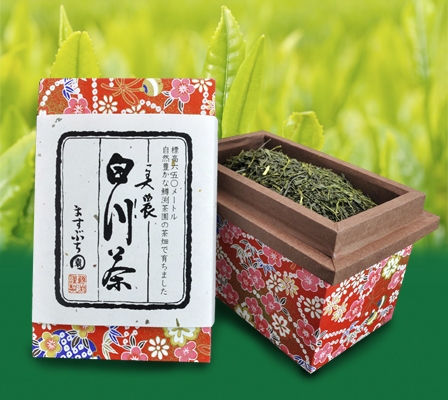 A traditional wooden tea box has long been used to store Japanese tea. Our Mino Shirakawa tea is contained in a small wooden box covered with lovely Japanese paper. As the tea box features excellent moisture protection and bug-proof properties, you can use it to store over-the-counter medicines or precious items. The vivid and classic patterned Japanese paper can serve as a part of your interior design. This is a perfect gift.
Item number
01038
Price
JPY 2,200
Manufacturer
Masubuchi-en Co., Ltd.
URL
E-mail
Product Information
Shirakawa-cha Sencha (green tea) 100g
Box: 140 × 87 × 85 mm
Expiration date: one year

Comment
- Close tightly by folding the bag to store after opening.
- You cannot choose the color and pattern of the box.
- The image shown is only as an example.

FOD000904