WOODroll
Attractive and comfortable feel. A tissue box case that has a presence.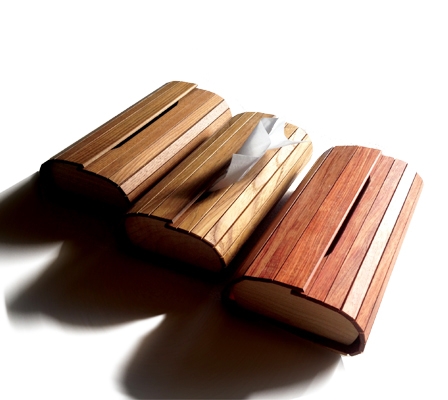 This lovely tissue case looks like a roll cake. Thinly sliced pieces of wood are assembled like an accordion. It can easily be placed over a tissue box. The flap closes with magnets. BITTER is made of walnut, which is counted as one of the three most precious woods in the world. Because of its beautiful grain, walnut has been used for making quality furniture and crafts. Immediately after being processed, the color may look slightly purple. However, as you use it, it gradually takes on orange hues, which enhance the impression of warmth. RED is made of quince that features its reddish color and extreme durability. Due to its unique color, quince is often used to decorate furniture, fixtures, and musical instruments.
Price
JPY 7,200
Manufacturer
LINERnotes
URL
E-mail
Product Information
Size: W 290 × D 145 × H 90 mm
Color - Material :
BITTER - walnut and ash
BROWN - teak and maple
RED - quince and maple
WHITE - light walnut and dark walnut

Comment
- The retail price may vary depending on the specifications.
- As it is made of solid wood, the color and grain may vary even among the products from the same material.
- The color and gloss may change over time, and warpage may occur due to the natural stretching and contracting of wood.
- The actual product may have a slightly different color and pattern from those seen in the picture.

WDF001601