Hida Shunkei Scarlet Flower Vase with a Handle
Mastered skills bring out the ultimate beauty of Hida Shunkei openwork lacquerware.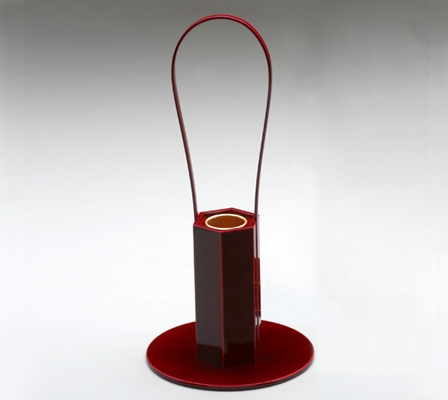 The dynamic and delicately-curved handle helps give a dramatic presentation of flowers, even if they are nameless plants picked from fields and gardens. The scarlet Shunkei and vivid green leaves make a stunning contrast. The modern design will match nicely with any room in both Japanese and Western-style homes. This flower vase quietly shows its presence in a room, offering a stage for every flower.
Item number
D-3
Price
JPY 8,000
Manufacturer
Matsuzawa Shikki Store
URL
E-mail
matsuzawasikki@white.plala.or.jp
Product Information
Material: Hinoki cypress, Hiba cypress
Size: 10.5cm × 7cm × 37cm
Finish: scarlet Shunkei lacquer
Storage: wipe well and store in a box indoors

WDF006502