Hida Shunkei Elongated Rectangular Serving Plate
Mastered skills bring out the ultimate beauty of Hida Shunkei openwork lacquerware.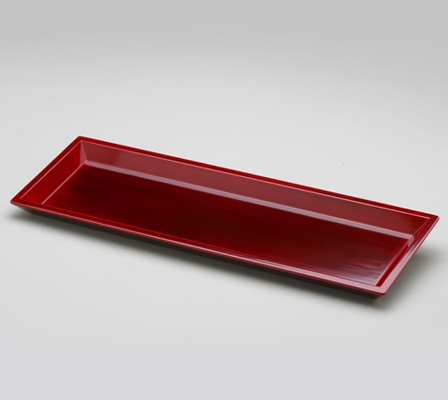 This plate is an excellent gift born of a fusion of the beauty of traditional Hida Shunkei and the modern tastes of Western tableware. You can use it as a serving plate, an accessory tray, and more in both Japanese and Western-style rooms. The wood grain seen through the lacquer finish expresses subtle nuances.
Item number
C-7
Price
JPY 12,000
Manufacturer
Matsuzawa Shikki Store
URL
E-mail
matsuzawasikki@white.plala.or.jp
Product Information
Material: Hinoki cypress, Hiba cypress
Size: rectangular serving plate 48cm × 16cm × 2.5cm
Finish: scarlet Shunkei lacquer
Storage: wipe well and store in a box indoors.

WDF006504