Nukuta Nabe
This special pot brings out deliciousness through the effects of far-infrared rays and ceramics.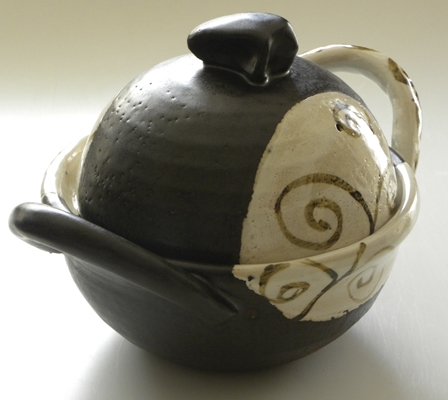 "Nukuta" means "warm" in a dialect of the Tono area in Gifu. This utility earthenware pot can be used on an open fire. Its stout shape and heaviness have made it popular. Due to the water purifying properties of ceramics, the taste of water becomes milder. Using the purified water for cooking, with the aid of the far-infrared ray effect, it is possible to extract the umami taste of ingredients without losing nutrition. Even with tap water, you can cook rice as plump and tasty as with natural water. In addition, the special ceramic material allows for cooking without water. Above all, this pot has excellent durability and toughness. Marushige Touki believes that this Nukuta Nabe will help get your family together around the table, bring smiles, and warm everyone's body and soul.
Manufacturer
Marushige Touki
TEL
+81-572-23-8346
URL
http://www.marushigetouki.co.jp/
E-mail
Product Information
Nukuta Nabe (black, No.7 size)
Material: pottery
Size: diameter 22 cm x H 21cm (best for cooking approx. 0.54 liters of rice)
Volume: 1,500cc
Design: Karakusa pattern, black

Comment
You can bake sweet potatoes using stones made of the same material.
CER003001