Stainless steel bonsai tools, 8pcs set
The world's favorite stainless steel bonsai scissors for professional use.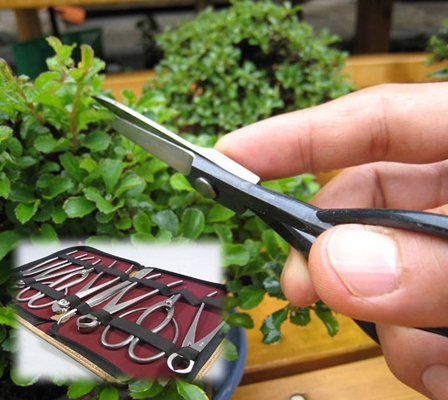 Many of Kaneshin's bonsai tools are manufactured by the handiwork of skilled artisans. Their outstanding techniques in "selecting good materials, forging, and heat processing" yield world-class, quality products. Sharpened by these same artisans, the blade holds a sharp edge for years. The number of our longstanding regular customers speaks for the reliable quality. You will be able to care for any size of bonsai with only this set of 8 piece stainless bonsai tools made in Japan. This stainless steel product is resistant to corrosion, significantly reducing maintenance.
Item number
No.177A
Manufacturer
Kaneshin Cutlery Mfg. Co., Ltd.
URL
http://kaneshin.shop.multilingualcart.com/
E-mail
Product Information
Material: stainless steel
- Branch cutter No.802
- Knob cutter No.810
- Pliers No.819
- Root cutter No.813:
- Wire cutter No.815
- Trimming scissors No.829
- Bonsai scissors No.831
- Tweezers No.61
Case: 270 mm × 195 mm × 44 mm; material: waterproof synthetic leather

For details, see the company website.

Comment
* The stainless steel material is resistant to corrosion, which does not mean that it will "never rust."
CUT004101