Bei-men Rice Noodle (without soup)
Noodle (men) made from rice (bei), called Bei-men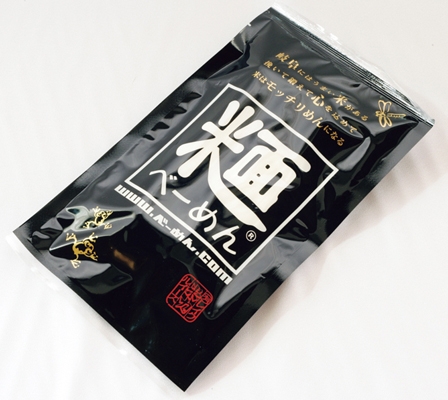 For this rice powder noodle, Kaizu-grown Hatsushimo rice is used as an ingredient, and no flower gluten is added as a combining powder. You can enjoy the chewy texture and rich rice flavor. "Hatsushimo" is a representative species of locally-produced rice, which is grown mainly in the southwestern part of Gifu. It is said that the name "Hatsushimo" comes from the fact that the harvest period is later than other common species, even at the time of the first frost. Due to the small-size of the crop, it is regarded as a very rare kind. As no wheat flour is used, it is safe for those who are allergic to wheat.
Item number
A-005
Price
JPY 400
Manufacturer
Lake Louise Co., ltd.
URL
E-mail
Product Information
Ingredients: Uruchi rice, starch (tapioca, sago palm), salt
Volume: 240g
Individual package size: W 15 × D 29 × H 4 cm
Expiration date: 4 months from the production date

Comment
- Store away from direct sunlight and hot/humid conditions.
- Products with soup are also available.

FOD005601