Shirakawago Bei-men (without soup)
Noodle made of Koshihikari rice grown in the soil and water of Shirakawago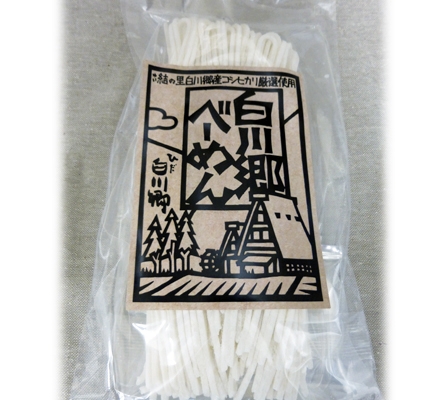 This rice noodle is made of 100% Koshihikari grown in the rich soil and clear water of Shirakawago, which is famous for the world heritage historic villages of Gassho-zukuri. Originally, Lake Louise created this product in partnership with local farmers and regional administration to develop the idea of "local ingredients, local production, and local consumption." There are various delicious recipes, such as Bei-men with salad, soup noodles with thinly-sliced tender pork. In addition, as no wheat flour is used, it is safe for those who are allergic to wheat.
Item number
A-016
Price
JPY 400
Manufacturer
Lake Louise Co., ltd.
TEL
+81-584-55-0229
URL
E-mail
Product Information
Ingredients: Uruchi rice (Shirakawago-produced Koshihikari rice), starch, salt
Volume: 240 g
Individual package size: W 15 × D 29 × H 4 cm
Expiration date: 4 months from the production date

Comment
- Store away from direct sunlight and hot/humid conditions.
- Products with soup are also available.

FOD005602