Three-sized Nested Utility Stools
Three-sized nested stools covered by persimmon tannin dyed washi paper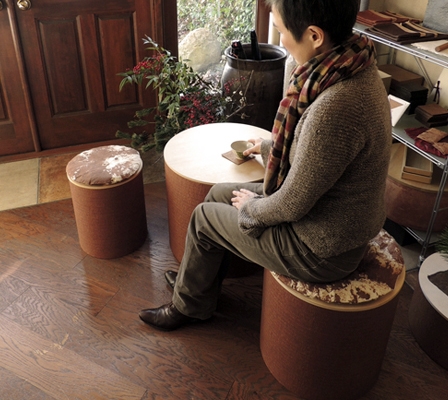 This is a set of cylindrical stools in three different sizes. The nested structure saves storage space. When guests visit unexpectedly, those stools can serve as a chair or a table, which is very useful. "Persimmon tannin" is made by crushing young persimmon (bitter persimmon) and fermenting the squeezed juice. It is said that persimmon tannin was used as a coating material due to its water/corrosion proof properties since the Heian era. Recently, it has been found to detoxify formaldehyde that is diffused in a room, becoming known as an effective measure for sick building syndrome. Natural materials are finished with traditional Japanese persimmon tannin. It provides warmth and various effects for your life.
Manufacturer
Central Trading Co., Ltd.
URL
E-mail
Product Information
Material:
Top board - linden plywood 18 mm
Body - paper tube (covered by persimmon tannin dyed washi)
Base - conifer plywood 9 mm
Size:
Large – approx. Diameter 50 × 46.5 cm
Middle – approx. Diameter 40 × 42.0 cm
Small – approx. Diameter 30 × 37.5 cm
Color: persimmon tannin
* Depending on the type of your PC monitor, the color may look slightly different from the actual item.

Comment
- Persimmon tannin dyed washi is carefully applied to the inside and the base.
- The paper is characterized by its unique texture, which resembles the surface of a tatami mat.
- The color may vary over time, enhancing the color of the persimmon tannin.
JPW006801