Oribako (handmade paper)
Decorate your room with a playful design!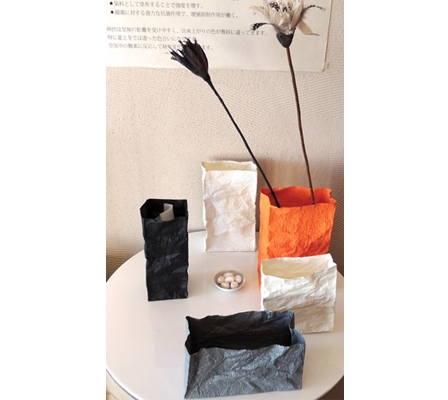 This playful box is made of handmade urethane-coated washi paper. With the specific texture of washi paper, the vivid color of the urethane coating shows its presence as an accent in a room. The applications are limitless. Enjoy various ways of using this box by following your ideas.
Manufacturer
Central Trading Co., Ltd.
URL
E-mail
Product Information
Material: handmade washi paper (urethane coated)
Size:
[A] approx. W 155 × D 95 × H 285 mm
[B] approx. W 100 × D 100 × H 250 mm
[C] approx. W 220 × D 95 × H 110 mm
[D] approx. W 165 × D 60 × H 180 mm
Color: black, white, grey, orange
* Depending on the type of your PC monitor, the color may look slightly different from the actual item.

Comment
- The paper material features nuanced wrinkles.

JPW006803