Babouche
Comfortable and gentle on your skin indoor slippers, "Babouche"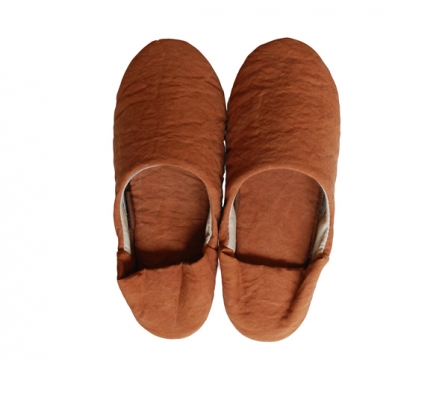 Babouche is made of Mino washi paper cloth, which can be worn comfortably throughout the year. The quality of Mino washi paper cloth keeps your feet cool in summer and warm in winter. Paper cloth has very little fuzz and is gentle for sensitive skin.
Moisture absorbent, quick drying washi cloth and antibacterial property of persimmon tannin dye will keep your feet dry even with extended wear.
Manufacturer
Central Trading Co., Ltd.
URL
E-mail
Product Information
Size: One size fits all (approx. 260 mm)

Colors: KAKISHIBU, TETSU
(Note: Due to the nature of paper cloth and computer monitors, color may appear differently.)

Material: Mino paper cloth (100% washi)

JPW006804