Mino-Washi Lace Art Frame
Graceful 'Yarn art' of Mino-Washi Lace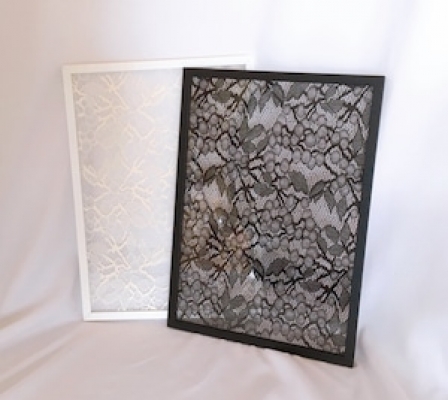 'Mino-Washi Lace' is made by weaving over 20,000 extra-fine yet strong yarns together, and is known as 'Yarn art' for its delicacy and elegance.

The "Mino Washi" tradition - which is over 1300 years old - is a sustainable material we hope to pass down to the future generations.

Displaying this in your room will create a luxurious atmosphere like that of a high class hotel.
Experience the elegance of Japanese tradition right at your home.
Manufacturer
Seira Fil
TEL
URL
E-mail
Product Information
■ Size: A4 31.7cm x 23cm x 1.2cm
■ Colour: White, Black
■ Material: Mino Japanese paper lace, Aluminum, Acrylic board (clear) rubber
■ Specifications: Floor-standing / Wall-mounted
■ Remarks:
- We will ship within 2 weeks after order is placed.
- The corners of the aluminum frame are sharp. When using it as wall mount, make sure to disassemble the frame on a secure flat surface, and pull off the rubber band attached on the corners.
- In case the rubber band deteriorates, replacement is available with a charge.
- Avoid direct sunlight.
- Do not place heavy objects or food on it.
JPW017601