Edo Tailored Miyako Uchiwa Chidori Type
Chidori Uchiwa born from traditional Japanese crafts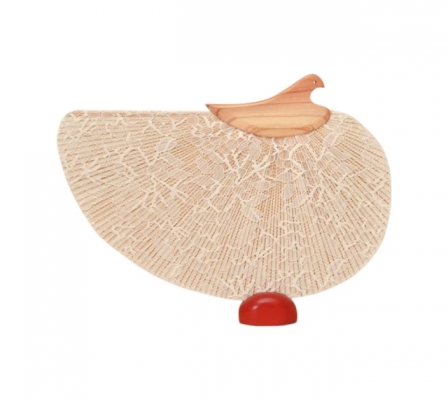 A beautiful Japanese traditional craft, known as "Edo Tailored Miyako Uchiwa Chidori Type (or more commonly known as Chidori Uchiwa)".
Its origin dates back to the early Edo period in Kyoto.

The Chidori Uchiwa is divided into three parts: Japanese paper, Bamboo bones, and the handle. Around 100 super-fine bamboo bones are finely arranged.
There are 30 processing steps in the production and all is done by hand.

Thanks to this intricate technique, only a small force is required to create a strong and gentle breeze.
Its appearance is as elegant as a bird flapping its wings.
The faint scent of wood makes you feel the warmth of nature.

Please enjoy the traditional beauty of Japan through the Chidori Uchiwa.
Manufacturer
Seira Fil
TEL
URL
E-mail
Product Information
■ Size: 26cm×38cm
■ Color: Natural, Black
■ Materials: Mino-Washi Lace, Bamboo, Cedar, Japanese Traditional paper
■ Remarks:
・ This product is very delicate. Please do not apply strong force.
・ Store away from humidity.
・ Does not include fan stand.
・ The pattern on the Uchiwa will be different for each product.

MADE IN JAPAN
JPW017602