Mino-Washi Lace Kyo Sensu
Kyo Sensu - Symbol of Prosperity and Good Fortune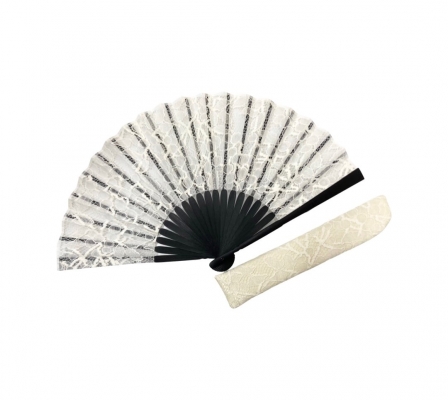 Mino-Washi Lace Kyo Sensu made by a long-established store founded in 1718, during the era of Tokugawa Yoshimune, 8th shogun of the Edo Shogunate.

With a history of over 1,200 years, the Kyo Sensu has long been appreciated and used by the people as a lucky charm that symbolizes prosperity and good fortune because of its broadening fan.
In particular, the custom of giving a Sensu as a celebratory gift continues to this very day.

This special Kyo Sensu is produced entirely in Japan, starting from making the fan surface to fan rib to the final assembly. Majority of the 88 production processes are hand-crafted by skilled craftsmen.
For the ribs of the fan, we only use high quality bamboo, 3 to 5 years old, for its high level of rigidity and recyclability.

The slim fan can be brought anywhere and provide a luxurious breeze to your skin.
Recommended as a gift to a loved one or as a display to entertain your guests.
Manufacturer
Seira Fil
TEL
URL
E-mail
Product Information
■ Size: 215mm*390mm
■ Color: Natural / Black
■ Weight: 12g
■ Materials: Mino-Washi Lace, Silk, Bamboo, Paulownia
■ Delivery time: 1 month
■ Note:
- Includes paulownia box and sensu bag.
- Made with a delicate fabric. Please handle with care.
- The pattern will differ for each product.

MADE IN JAPAN
JPW017605