"FLM®" Film Toothpaste
Ecological film toothpaste that is convenient for traveling and outdoors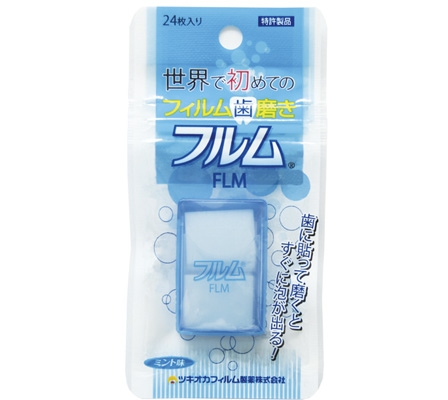 With our value of finding solutions, TSUKIOKA has invented FLM® film toothpaste made of edible film. Apply a sheet on your front teeth and start brushing with a wet toothbrush. It will foam up in a few seconds. You can put a sheet of FLM® into your mouth and swish with water to cleanse your mouth after meal. Light, thin FLM® is perfect for traveling. Compared to toothpaste tubes, it is eco-friendly reducing the volume of waste. FLM® is now available at MUJI stores.
Item number
F002
Price
JPY 350/pack
(Contains 10 packs in a box)

Manufacturer
TSUKIOKA FILM PHARMA Co., Ltd.
URL
E-mail
Product Information
Film Toothpaste
Dimensions: 23mm x 17mm
Contains 24 Sheets
Mint Flavor

Comment
- Manufactured using the production management system equivalent to pharmaceutical plants
- This product can be shipped worldwide by EMS (Japan Post Express Mail Service)

OTH007903