ALТY Beauty Brush Mini Handle
In the skill of a brush craftsman
Skin care for the neck, chest, elbows, knees, legs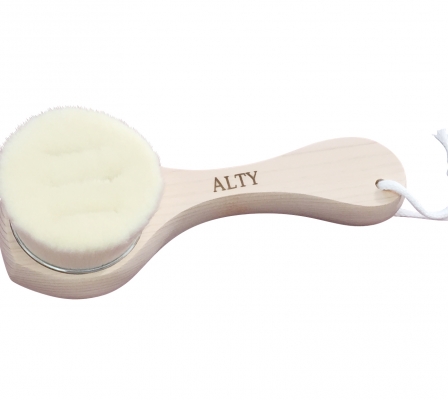 480,000 ultra-fine hairs of 50 microns are densely packed in this face and décolleté type Brush. The easy to grip handle is made from Tono Hinoki, demonstrating the craftsmanship of the woodwork. The brush smooths out any rough and dry skin, and is especially good for elbows and knees.
For instructions on how to use the product, please watch the YouTube video for reference.
Item number
292704
Price
6400yen
Manufacturer
AKADA PAINT BRUSH., LTD.
TEL
0573-79-2541
URL
https://www.akada-brush.co.jp/
E-mail
Product Information
Size:(mm): W160H48
Package Size:(mm): W65H165D55
Material:
 Hair / Acrylic Kanegoto
 Xylem Wood / Tono Hinoki Cypress
 Fittings / Aluminum Fittings
Buyers: 30s~70s, Men and Women
Comment
After rinsing your body in the shower, apply soap foam to your body, then apply the foam to a thoroughly wet brush and use it on your body. The trick is to use the brush as if you are gently massaging your body.
Preferred export destination
countries or regions
America, China, Europe
OTH017403