HANE
Three different wood materials are combined to make a shoehorn key holder.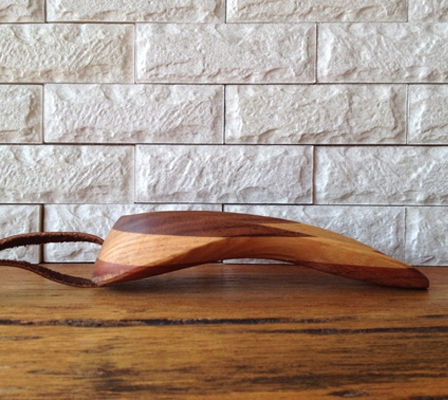 You can always carry this shoehorn key holder with you. HANE is carved from three different types of wood by hand. It fits your foot perfectly while remaining strong. It is also useful when wearing a pair of sneakers. Variations include a combination of walnut, ash, and quince as well as a combination of wenge, teak, and Japanese zelkova. Wenge wood has a deep dark color and unique delicate grains, which combine hardness and toughness. The core of wenge wood presents a pale color with fine, regular lines, and it is considered a valuable, decorative element. Wenge wood is therefore often used for high-quality furniture. It is also resistant to insect damage, such as bark beetles and termites.
Price
JPY 3,800
Manufacturer
LINERnotes
URL
E-mail
Product Information
Size: L 110 × W 50 × Thickness 20 mm
Color - Material : TYPE-1 walnut, ash, quince
TYPE-2 wenge, cheek, Japanese zelkova

Comment
- The retail price may vary depending on the specifications.
- As it is made of solid wood, the color and grain may vary even among the products of the same material.
- The color and gloss may change over time, and warping may occur due to the natural stretching and contracting of wood.
- Actual products may have a slightly different color and pattern from those seen in the pictures.

WDF001603