Origami Chair
Japanese lacquer and artistry of professional skills create a design inspired by "Origami," Japanese traditional art of folding paper.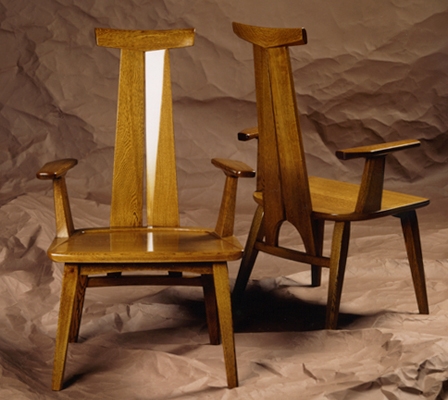 The Origami chair is manufactured in Takayama City, a major area for furniture production in Japan. The design is inspired by an "origami crane." The dignified, sharp outline and the elegant beauty of the curved surfaces are impressively harmonized. Especially the delicate curves are achieved by careful and skillful use of various hand-working tools. The natural lacquer is manually coated several times to provide a beautiful gloss. The wide seat makes it a comfortable place to sit.
Item number
ORGMCHU
Manufacturer
Mokudou Koubou, Ltd.
URL
http://www.mokudou-koubou.com/
E-mail
Product Information
Material: oak
Size: W 555 ×D 540 × H 970 mm
SH 400 mm
Coating: finished with wipe-raw lacquer

Comment
- Do NOT use a chemical cloth to wipe the chair.
WDF007101