Beans Dining Table
User-friendly round table. The Japanese "plane" technique is incorporated into an antique Western design.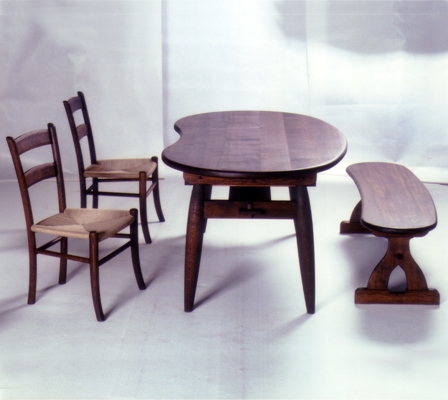 What catches your eyes is the very shape of the top board. The Beans dining table is created with the shape of "fava beans" in mind. You can get together around the table with your family and friends. The edges of the table and legs are all rounded to prevent injuries. The marks of a Japanese carving tool, or "Kanna plane," are left on the top surface to express the professional skills. Furthermore, this table is equipped with drawers and shelf boards under the top board to help you tidy up everyday necessities and create open space on the table.
Item number
BDT
Manufacturer
Mokudou Koubou, Ltd.
URL
http://www.mokudou-koubou.com/
E-mail
Product Information
Material: oak
Size: W 1,600 × H 700 × D 900 mm
Color: dark, natural
Coating: oil-finish

WDF007103