KATOMOKU Vermillion Ink Pad
A piece of stationery you would want to show off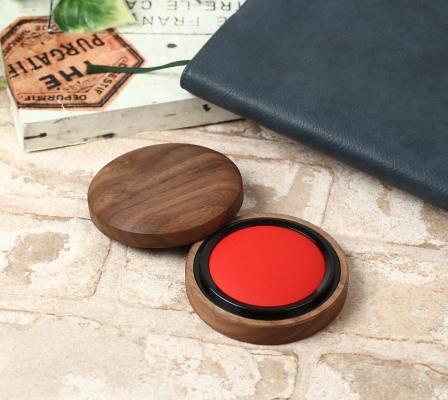 "KATOMOKU Vermillion Ink Pad" was developed in corporation with Shachihata Inc.
This walnut case specifically made for the Shachihata ink pad (Ecos) gives you a luxury feel.

We have created these ink pads especially for;
- Businesspeople who often have their clients place "hanko" (personal seals) on documents.
- Individuals who seek high quality products.

For those who love natural wood, we offer oil finished ink pads maintaining the texture of wood. We also offer urethane coated ink pads for those who prefer a high-end look.
Item number
km-08

Price
JPY 3,800 (excluding tax)
Manufacturer
KATOMOKU Inc.
URL
E-mail
Product Information
Dimensions: 74.5 DIA. x 26mm
Opening for ink pad: 53.5mm DIA.
Material: Walnut
Weight: 77g
JAN (Japanese Article Number):
    Oil Finish -4560410070179
    Urethane Coating -4560410070162
Note: Oil Finish (km-08O), Urethane Coated Finish (km-08U)
    Vermillion ink pad (Ecos) #50 by Shachihata Inc.

WDF014804