Satake Cutlery Mfg. Co., Ltd.
We, SATAKE CUTLERY MFG.Co.,Ltd., specialize in manufacturing high quality kitchen tools.
Since founded in 1947, we have been developing and producing knives designed primarily for Japanese department stores.
Our well-equipped manufacturing facility allows us to offer affordable yet high quality products and services to our customers.
We strive to continuously innovate our technologies and make products that meet customer needs.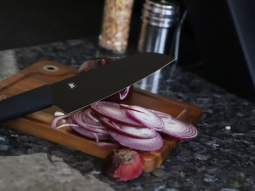 Company name
Satake Cutlery Mfg. Co., Ltd.
Main products
Professional Chef Series, "Aogami" Series, "Sirogami" Series, "Sakura" Series
Representative
Yasuhiro Satake
Address
6-21 Higashi-fukuno cho Seki City, GIFU 501-3242 JAPAN
Foundation
1954
Capital
10 milion yen
TEL
+81-575-22-1631
FAX
+81-575-22-1632
URL
https://www.satake-cutlery.com
https://www.sekihoucho-a.com
E-mail
office@satake-cutlery.com
Business description
Kitchen Knives, Scissors, Kitchenware, Beauty Tool, Nail Clippers, Garden Tools, etc.
Exhibition product
CUT0147