HAYASHI KOHGEI Co.,LTD.
For 1300 years, Fores has manufactured interior products primarily with Gifu Mino Washi paper. The Suwa factory, which is surrounded by the stunning scenery of the Mino area, operates an integrated system including paper making, woodwork, painting, ironwork, and assembly. Fores aims to deliver the beauty and healing power of Washi paper to the world with the Fores-brand Washi lighting suitable for a modern lifestyle and interior furnishings.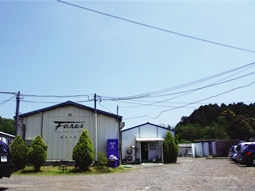 Company name
HAYASHI KOHGEI Co.,LTD.
Main products
Interior Washi lighting and Washi products
Representative
Kazunori HAYASHI
Address
598-2 Taromaru, Gifu-shi, GIFU 501-2577
Foundation
1949
Capital
JPY10,000,000
TEL
+81-58-229-2828
FAX
+81-58-229-2844
URL
http://www.fores.co.jp
E-mail
hayashi@fores.co.jp
Business description
Planning and manufacturing interior Washi lighting and Washi products
Domestic sales
Furniture stores, specialty stores, etc.
Overseas sales
Australia, UK, Germany, USA, etc.
Other
The Paper Stone series won the Grand Prize at the Design Contest Gifu 1997.
The Paper Stone series and the NEO Japan series won the Good Design Award 2001.
The Paper Stone series and the RE-MIX series received the Special Award at the International Furniture Fair Tokyo (IFFT) Award 2003 and 2004.
The Kami-no-Kabin received the Good Design Award 2013.

Exhibition product
JPW0034