KASHIWA CO., LTD.
"Creating a living space with a feel of coherence by furniture, kitchen and interior door fittings"
Kashiwa Corporation offers "Hida Design" that creates a graceful space with a design crossing the border between the Japanese design and the western design.
The kitchen that values the warmth of the innocent nature and is in harmony with the furniture thanks to the feel of the interior.
And the door fittings to render a high quality space with the simple design and innocent materials. We will continue to propose a rich living space with a feel of coherence, as a furniture maker of these products full of the craftsmanship, a new sensitivity, the natural texture, and the warmth.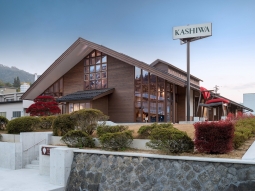 Company name
KASHIWA CO., LTD.
Main products
Wood furniture including chairs, tables and sofas
Wooden cabinets
Wooden home accessories

Representative
Michiaki Seki
Address
1-260 Kamiokamoto-cho Takayama-shi, GIFU 506-8585
Foundation
1943
Capital
JPY 55,000,000
TEL
+81-577-32-3050
FAX
+81-577-34-7417
URL
http://www.kashiwa.gr.jp
E-mail
info@kashiwa.gr.jp
Business description
Manufacture of western-style wood furniture, home accessories and interior building materials
Domestic sales
Housing related businesses, construction design companies, department stores, wholesalers, furniture stores, home décor retailers, etc.
Overseas sales
Taiwan, Korea and Hong Kong
Other
「ISO9001:2008」「BL (優良住宅部品)」認証取得
Exhibition product
WDF0149