Kenzan Red-figured Clouds and Chrysanthemum Pattern 9.0 Curved Shallow Bowl with Platform 2,000 cc
Large shallow bowl with soothing patterns.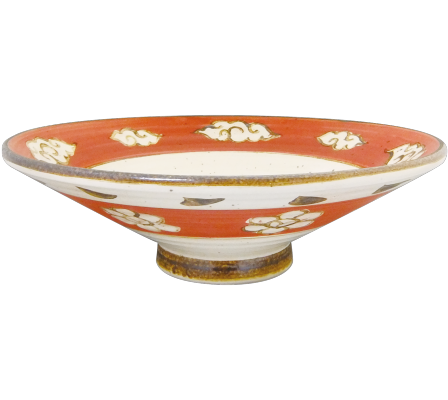 This red, hand-drawn bowl is produced by the special "enamel glaze baking" method. After coloring, the bowl is baked at temperatures as high as approximately 1,230 degree C. As paints are added to the melted glaze, the colors and patterns do not fade through repeated washing in a dishwasher. Usually made in a throwing process, the rim tends to chip easily. However, our skilled artisans work by hand to make the rim round to prevent breakage. With a pottery-like look, this reinforced porcelain bowl is tough and clean.
Item number
11300-9042
Price
JPY 19,000
Manufacturer
YAMASAN MIYAKE CO., LTD.
TEL
+81-572-55-5164
URL
http://www.yamasanmiyake.co.jp
E-mail
Product Information
Material: reinforced porcelain
Size: Diameter 28.5 × H 8.9 cm
Volume: 2,000 cc

Comment
- It is dishwasher safe.
- As the pattern is hand-drawn, each product may look slightly different. You may notice uneven coloring, for example.
CER003302