Creative Chopstick Rests
Creatively designed chopstick rests to create a lively atmosphere around the table.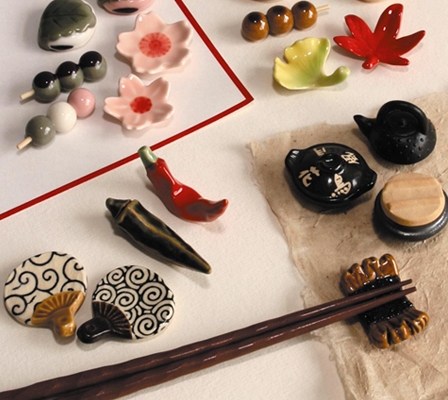 A chopstick rest is a familiar item for Japanese dining. These small objects have a big presence. Just a single item can change the entire atmosphere around the table, and serve as a conversation piece.
The products come out in various shapes that represent natural motifs, changes in the seasons, and annual festive events, in addition to breads, donuts, and some Japanese fall foods. MASTERSCRAFT endeavors to express trend of the times through items like chopstick rests.

Manufacturer
MASTERSCRAFT CORPORATION
URL
E-mail
Product Information
Material: pottery and porcelain
Comment
- Not microwavable and not dishwasherproof
- Do NOT put it into your mouth, do not mistake for food.

CER003801