Turquoise Blue Bowl
Beautiful blue spiral patterned bowl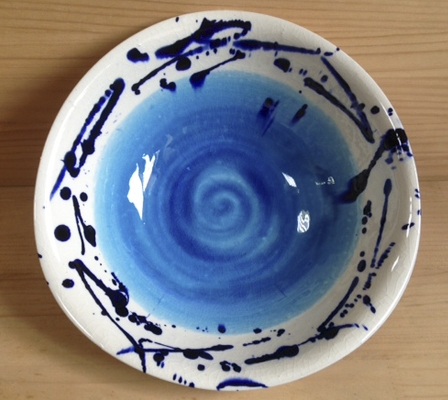 This bowl can be used for serving various food, including pasta, salad, stir-fry, and more. The bright and deep blue spiral-patterned bowl makes an ordinary dining table distinctive. It is easily washable due to its water-repellent property. It is also microwavable.
Price
JPY 12,000
Manufacturer
Chizan-gama
TEL
+81-572-57-6570
URL
E-mail
Product Information
Size:
approx. Diameter 25.5 x approx. H 8.5 cm
Material:Earthenware

Comment
- As each plate is handmade, the pattern, color tone, shape, and size may be slightly different from those shown in pictures, depending on where it is placed in the kiln during the firing process.
- Due to its water repellent finish, there is no need to boil before use.
- This plate cannot be used in an oven or a dishwasher.

CER006302