Turquoise Blue Round Plate
Deep turquoise blue boldly decorates the round plate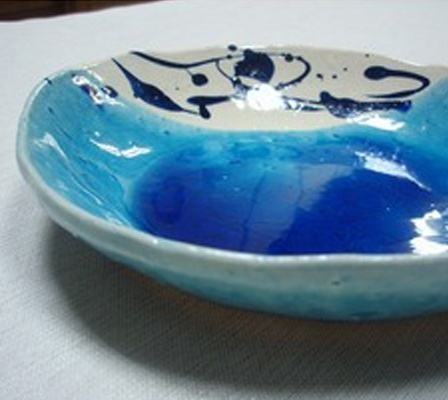 This round plate with depth is perfect for serving food with some soup, such as stewed dishes. The cool turquoise blue is suitable for displaying summer sweets like soft adzuki-bean jelly. The dynamic pattern creates an impressive design in harmony with the cool and deep blue. You can wash it due to its water repellent property. It is also microwavable.
Price
JPY 3,000
Manufacturer
Chizan-gama
TEL
+81-572-57-6570
URL
E-mail
Product Information
Size:
approx. Diameter 16 x approx. H 3.6 cm
Material:Earthenware

Comment
- As each plate is handmade, its pattern, color tone, shape, and size may be slightly different from those in pictures, depending on a place in a kiln when fired.
- Due to the water repellent finish, there is no need to boil before use.
- This plate cannot be used in an oven or a dishwasher.

CER006303