KOMINO Series - DEMOTION
With a visual effect of deep concavity/convexity and gentle curves, the DEMOTION interior tile gives a fresh impression with every glance. It is perfect for decorating the interior of stores and houses to create a lively atmosphere.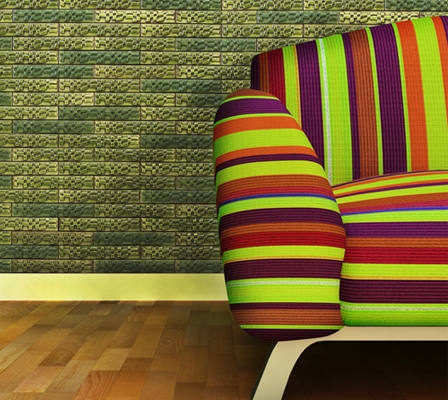 DEMOTION won the prize for "Tiles" at the JCD PRODUCT OF THE YEAR in Central Japan. The design by Carozzeria Cawai Co. expresses the flow of the permanent magnetic power of the earth, passing through the fluctuation and movement of the three-dimensional dents. Just like Escher's illusions, the DEMOTION tiles provide us with unique visual effects. Top quality tiles are produced from a combination of select materials and the best technologies. The "KOMINO" series is a result of just such a combination of "beautiful and pleasant design," "Mino Ware traditional shiny glaze," and "our proud molding technology."
Manufacturer
Taniguchi Seitosho Co., Ltd.
TEL
+81-574-62-1313
URL
http://www.taniguchi-tiles.com/index.html
E-mail
Product Information
Glazed interior wall tile Type II (stoneware)
Type Diamond: 95 × 23mm(H)
Type Stick: 250(W) x 40(D) x 23mm(H)

Comment
Variations include a total of 12 colors.
CER007402