SHELL
Glossy, thin plate set with a soft oval form that resembles sea shells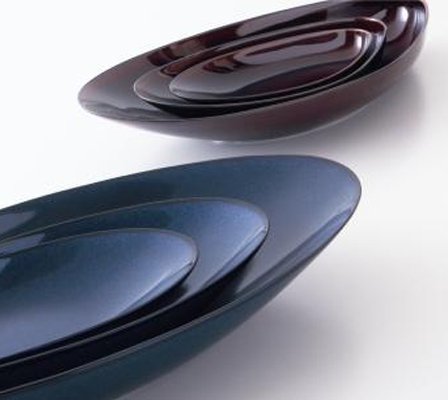 We designed part of the rim to slightly curve inward for easy scooping to the last bite and drop. The bottom part is finished flat without a foot, resulting in the stylish and easy-to-store design. Variations include three colors: ODA POTTERY's proud white porcelain, the brilliant, deep ultramarine blue, and the Bekko brown that reflects the color of food clearly. Choose one depending on the volume of food from a single serving to a party portion.
Price
Mussel 18: JPY 1,000; 22: JPY 1,800; 32: JPY 3,000; 36: JPY 4,000
Clam: 10cm JPY 700; 18cm JPY 1,500; 26cm JPY 3,400
Clam bowl: 21cm JPY 2,800

Manufacturer
ODA POTTERY CO., LTD.
TEL
+81-572-68-3175
URL
E-mail
Product Information
Material: pottery (2 shapes, 4 sizes each, 3 colors, a total of 24 items)
Size:
Mussel 18 - W 180 × D 88 × H 25 mm
Mussel 22 - W 225 × D 110 × H 32 mm
Mussel 32 - W 320 × D 154 × H 43 mm
Mussel 36 - W 365 × D 180 × H 52 mm
Clam 10 - W 100 × D 90 × H 20 mm
Clam 18 - W 180 × D 162 × H 31 mm
Clam 26 - W 255 × D 234 × H 40 mm
Clam bowl 21 - W 210 × D 187 × H 65mm
Color: white, Bekko brown, ultramarine blue


Comment
* Won the Good Design Award 2008

CER007702