KUSHIME
Available in various sizes and designs, a popular series of tableware featuring a modern Japanese Kushime comb pattern and color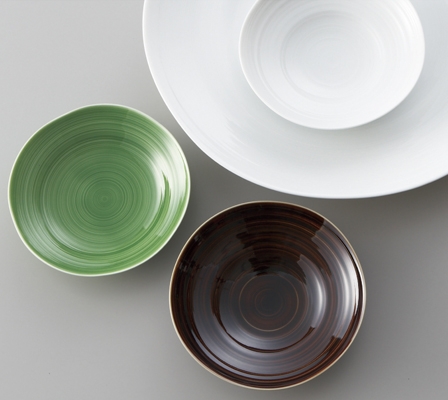 The fine, delicate lines like a comb pattern represent a "Japanese" style. The soft, round, curved body represents a "modern" design. When serving food and putting it on a table, it looks dignified and elegant. There are various sizes and designs. Choose one that meets the purpose, application, and your preference. Both cups and plates are available in larger sizes to suit with the Western life style.
Price
Small bowl - JPY 800~
Mini bowl - JPY 700~
Plate - JPY 500~
Mug - JPY 1,100~
Bowl - JPY 600~
Tea cup - JPY 500~

Manufacturer
ODA POTTERY CO., LTD.
TEL
+81-572-68-3175
URL
E-mail
Product Information
Material: porcelain
Type: 11 types in different sizes and colors, a total of 48 items
Size: various sizes are available.
Color: 3 colors (white, light brown glaze, green glaze)
For details on shapes and sizes, visit our website.

CER007704