YOHEN Pool Tile
Beautiful crystals create expressive reflections.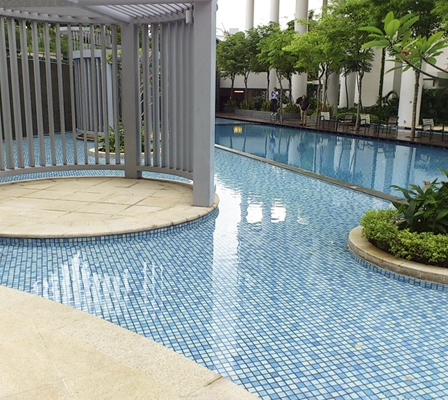 YOHEN tiles are produced by using a special glaze and by slow baking over 20 hours. The resulting deep colors will never be achieved by a short-time kiln process. The variations include 90 colors. Our system allows you to simulate various combinations of up to 4 colors of your choice at the desired mixing rate. For details, refer to our website
(http://tn-corporation.com/english/maf).
Item number
HS-01~90
Manufacturer
TN CORPORATION
TEL
+81-574-62-1311
URL
http://www.tn-corporation.com/
E-mail
Product Information
Material: porcelain
Tile size: 45 × 45mm
Sheet size: 300 × 300mm
Thickness: 7.0mm
25 sheets per box

Comment
The color may vary due to the discoloration of the ceramic.
CER008001