MODA ROUND
Gentle colors and smooth curves create a characteristic wall design.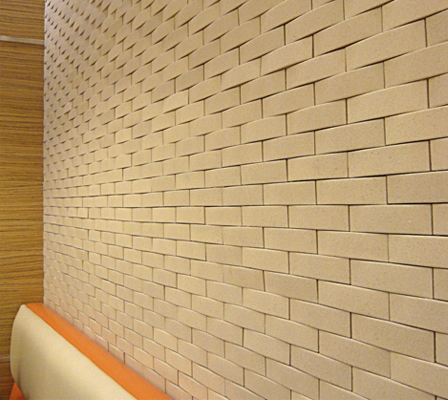 MODA ROUND mosaic tiles are produced by applying Japanese molding technology and a material additive-coloring process. The tiles are unitized for easy installation. They can be easily glued. Compared to a natural stone, this mosaic tile has a lighter weight and more stable quality. With effective lighting, it offers soft shading, which creates a more modern and serene atmosphere.
Item number
MDR
Manufacturer
TN CORPORATION
URL
http://www.tn-corporation.com/
E-mail
Product Information
Material: porcelain
Tile size: 92 x 23mm
Sheet size: 290 x 280mm
Thickness: 10.0mm
15 sheets per box

Comment
- A joint-coating method cannot be performed due to the irregular surface.
CER008003