Lacquered Ceramics Sokichi Coffee Cup & Saucer
The warm design adds color to your daily life.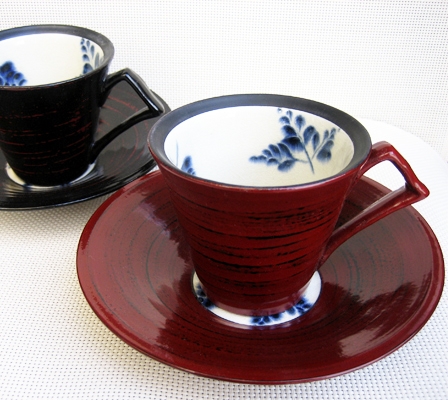 When you drink your morning coffee or when you enjoy afternoon tea with guests, this warm design will serve as a colorful accent. The angled rim of the cup fits perfectly and comfortably on your lips. By applying a natural lacquer to the pottery, we achieved the rich and glossy texture of a beautiful cup and saucer as well as the texture of traditional Akebono and Negoro lacquerware featuring original, deep Japanese colors. You can see the two different aspects of its beauty.
Item number
1000 Shida
Price
JPY7,000
Manufacturer
Souzangama
TEL
+81-572-59-8621
URL
E-mail
Product Information
Material: lacquered ceramic
Size: cup 85mm(φ) x 75mm(H)
saucer 160mm(φ) x 30mm(H)
Color: Akebono (dawn)/Negoro lacquer

Comment
This is the most popular Souzangama product. Why not reward yourself with this cup and saucer or send them as a present to your loved ones.
CER008101