Fujiyama Oroshi
Unique grater that resembles Mt. Fuji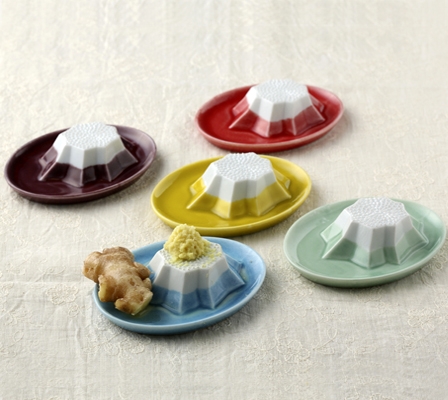 This is a unique grater that resembles the world heritage site Mt. Fuji. The fine grater is perfect for grating ginger and garlic. There is a space to rest things in the act of grating at the base of the mountain. It comes in a variety of five colors. This colorful Fujiyama will light up your dining table. The ground food also adds color to the top of the mountain. For example, wasabi green represents fresh leaves in spring and ginger yellow is associated with the color of autumn leaves. Packaged in a gift box, it makes a perfect gift for friends.
Manufacturer
KANEKO KOHYO POTTERY MFG.
TEL
+81-572-57-8168
URL
E-mail
Product Information
Material: porcelain
Mino Ware/Japan
Size: Diameter 115 x 90 x H 30 mm
Color: a total of 5 colors including blue, red, green, yellow, and purple

Comment
- It is dishwasher and dryer safe.
- You can put this item in a microwave to warm it for a short period of time. Do not heat it for long, which may cause it to break.
- It is not oven safe.

CER008201