FUDOH Tenmoku Bowl - Gold/Silver
Light and darkness create an expressive look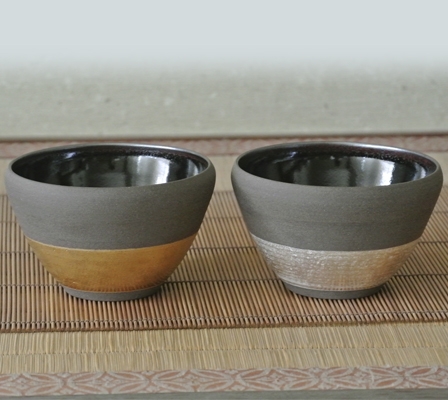 While staying loyal to traditional materials and techniques, we produce a bowl that matches the modern lifestyle. The Fudogama Tenmoku series features a beautiful contrast of an unglazed outside and a glossy inside with iron glaze. It is thinner and lighter than usual pottery. We designed it with the hope that the gorgeous gold and silver decorations add glamor to people's daily life. This pretty round bowl fits perfectly in the hand. It can be used for various applications, for example, as a soup cup, a small bowl, and much more.
Item number
T-18
Price
JPY 7,800
Manufacturer
Fudogama
TEL
+81-572-59-5228
URL
E-mail
Product Information
Size: Diameter 110 × H 70 mm (a set of gold/silver)
Materials: pottery, gold, silver

Comment
- This is a perfect gift or souvenir.
- Depending on the glazing and baking process, the color may appear differently. It may also cause variations in shape and thickness.
- This product is not microwavable.

CER008502