FUDOH Oribe Katakuchi
Easy-to-use, green glazed, beautiful lipped bowl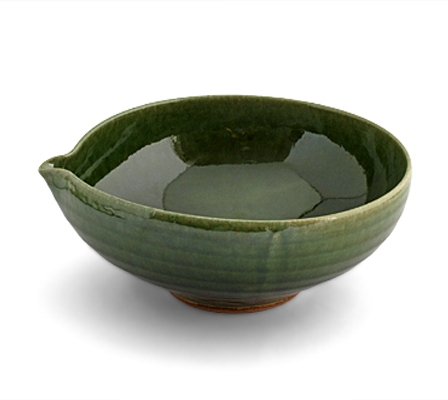 Katakuchi refers to a bowl with a lip like a bird's beak on one side of the rim for easy pouring. This is a beautifully glazed, green Katakuchi, which is useful for serving soup and other dishes. This bowl reflects the traditional techniques preserved by Mino potters and free-spirited creativity representing the Momoyama period. We modestly attempt to express the identity of our products in their universal beauty, by eliminating excessive decoration.
Item number
O-5
Price
JPY 7,000
Manufacturer
Fudogama
TEL
+81-572-59-5228
URL
E-mail
Product Information
Size(mm): 205 × 185 × 80
Material: pottery

Comment
- Depending on the glazing and baking process, the color may appear differently. It may also cause variations in shape and thickness.
CER008504