Universal Tea Pot for Three
This tea pot can brew any kind of tea, including green tea, black tea, herb tea, and more. This pot shows ZERO JAPAN's dedication.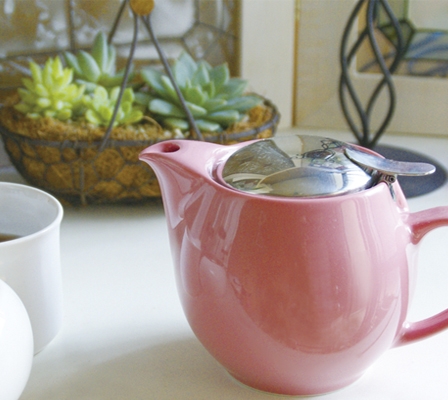 This tea pot is designed to allow tea leaves to steep freely in the pot. It makes highly aromatic, delicious tea. With its stainless steel, clip-type lid, you can hold the pot to pour with one hand, without worrying about dropping the lid. The lid design can also become a good accent. We are particular about making a tea strainer that is easy to use. Both the lid and tea strainer can be removed easily, which enables you to keep them clean and do simply maintenance. It is very handy and useful. Various colors are available.
Item number
BBN-02
Manufacturer
ZERO JAPAN INC.
URL
E-mail
Product Information
Material: Mino Ware,
pottery, stainless steel
Size: 150 x 100 x H 100 mm
Volume: 450 cc
Color: Over 100 colors are available.
For details, please visit our website.
- This tea pot is packaged in a brown box.

Comment
- Do not use on an open flame.
- Remove the lid and infuser for use in microwave oven and dishwasher.


CER008901