Dripper S, L
With this dripper, you can drip the most delicious coffee in the world.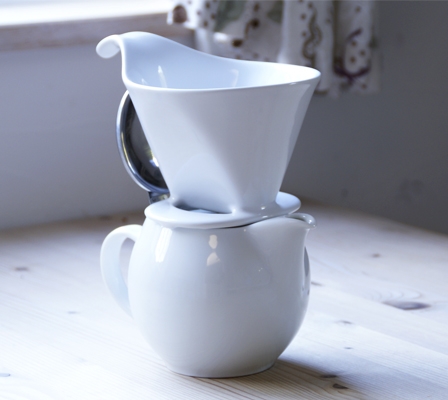 Nowadays in the United States, many people go to coffee shops that serve coffee with a delicate taste and aroma by using different types of coffee beans and roasting methods. The US champion at the US Brewers Cup has been using this dripper. ZERO JAPAN's dripper is comprised of a cavity and a hole which are precisely designed to collect drippings in the center and to enable you to confirm the amount of brewed coffee in order to prevent coffee from leaking out of the cup. Due to the usability, this dripper has been regularly adopted by restaurants, cafes, and homes throughout the world.
Item number
BKK-15S/ L  BKK-15L TOMATO 
Manufacturer
ZERO JAPAN INC.
URL
E-mail
Product Information
Material: Mino Ware, pottery
Size: S - 100 x 130 x H 82 mm
L - 117 x 152 x H 103 mm
Both are suitable for a cup with a 7 - 9cm diameter.
Color: Total of 6 colors for each of S and L sizes.
White (WH), Black (BK), Jeans Blue (JB), Antique Green (AGN), Coffee Brown (CBR), Tomato (TO)
- This product is packaged in a brown box..
- Drippers S and L both can be set on universal-type tea pots.

Comment
- This product is dishwasher and microwave safe.
- Do not use on an open flame.

CER008903