Marble Bowl
This marble bowl displays fresh color tones like the palette of watercolor painting.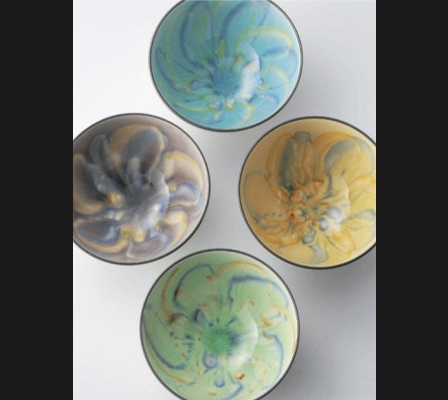 This is a thin, handy-sized bowl. You can use it to serve snacks to accompany a drink or as a sake cup. The unique marble pattern inside adds color to your dining table. It can only be achieved by Marukatsu Touen, which is one of the Mino Ware potteries. This technique is highly valued internationally. Enjoy the distinctive expression of the handiwork and skills of the artisans that represent Japan's pride to the world.
Price
Listed in the specifications below.
Manufacturer
U-Products. Inc
URL
http://www.hitomonokurashi.com
E-mail
Product Information
Material: porcelain

Size:
SS - Diameter 7.9cm x H 4.3cm, JPY 600
S - Diameter 12cm x H 6.3cm, JPY 1,000
M - Diameter 16cm x H 8.6cm, JPY 1,800
L - Diameter 21cm x H 11.2cm, JPY 4,500

Color:
light blue, yellow, yellow green, purple, a total of 4 colors.

Comment
- It is microwave and dishwasher safe.
- The thin porcelain is characterized by its sharp expression. It has no water absorbency, making it suitable for everyday use. The thinness accelerates heat conduction. When pouring hot drinks, the bowl becomes extremely hot. Careful handling is required.

CER009201