Porcelain Washbowl [SOMEKOBANA]
Mino ware porcelain washbowls with rich variation, for bathrooms / washrooms , are made by various techniques cultivated with the history of Mino ware since 13th century.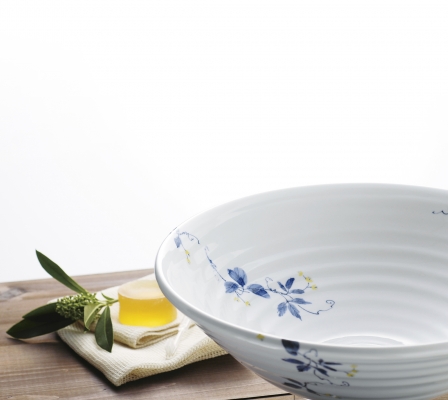 Small flowers and vine are drawn simply with traditional technique[SOMETSUKE]."Enjoying blank" is one of the characteristics of the Japanese culture and art.The blank on the surface stimulates our imagination.Generally, porcelain has strength more than pottery, and its water permeability is approximately 0. The strength and waterproofness are better for the safety and hygiene of the place around a water supply. The washbowls can make bathrooms and washrooms gorgeous.

Item number
A-127[LARGE]
A-131[SMALL]

Manufacturer
Nihon Ceraty
TEL
+81-572-54-3400
URL
https://ja-jp.facebook.com/lafiore.oribehills
E-mail
Product Information
made of porcelain
A-127[LARGE]
 Diameter 380mm
 Height 130mm
A-131[SMALL]
 Diameter 320mm
 Height 125mm
CER009602