Cera・Cute
Waterless Cooking x Pressure Cooking x Benefits of Ceramics = Cera・Cute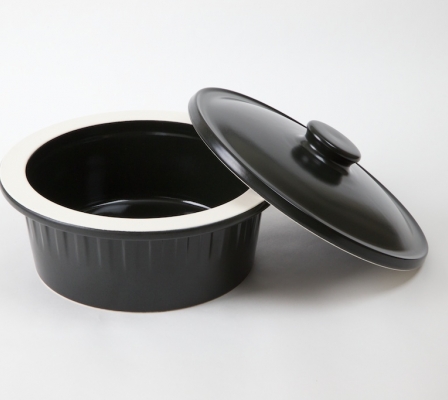 Cera・Cute is a ceramic pot that was developed with our sophisticated sealing technology and functions like a pressure cooker. Benefits of ceramic cookware include heat retention and airtight seal maximized by steam, and far infrared generated by ceramic brings out the flavor of ingredients.
Item number
CER013801
Price
JPY 25,000
Manufacturer
Ichiyama Co., Ltd.
TEL
+81-572-57-6805
URL
http://ichiyamaseitosho.hp.gogo.jp/pc/
E-mail
Product Information
Dimensions: 24 cm in diameter and 13 cm in overall height (approx.)
Maximum Volume: 2,000 milliliter
Weight: 2,500 g approx.
(Lid – 1,200 g, Pot – 1,300 g)
Stove-top, oven and microwave safe

Comment
We have spent about two years to develop this new generation ceramic cookware "Cera・Cute." By getting more recognition, we would like this product to trigger the revitalization of ceramic industry. We would also like to raise awareness of made-in-Japan products' beauty, and provide opportunities for families to sit around the table with smiles on their faces.
CER013801