"SW" Series Kitchen Tools
High-class kitchen tools consisting of a natural wood handle and a beautifully finished, stainless steel body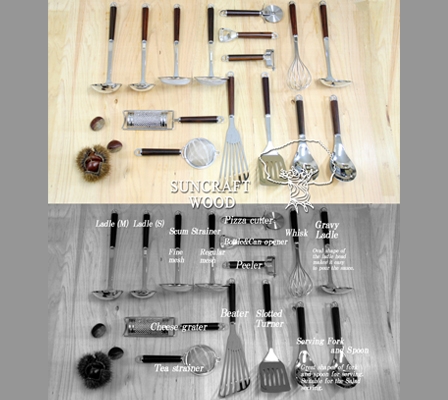 Each item in this SW series of kitchen tools is comprised of a handle made of natural wood that gives a warm and refined impression, and a body made of a single sheet of stainless steel without any welded joints or traces of pin caulking. The stainless steel blade is beautifully finished by an artisan's careful work. For the handle, natural rosewood is used to create a refined look. In addition to basic items such as a ladle, spatula, whisk, forks and spoons for everyday cooking, this series includes small gadgets such as a peeler, a cheese grater, and a pizza cutter. It can accomodate almost every cooking processes. It would be a good idea to coordinate your kitchen with the entire SW series.
Manufacturer
SUNCRAFT COMPANY LIMITED
TEL
+81-575-22-5511
URL
E-mail
Product Information
Material: blade - stainless steel
handle - rosewood

Comment
* Do not wash in a dishwasher.
CUT003505