KASUMI Titanium Series
Light and shiny knife series made of a titanium-coated molybdenum vanadium steel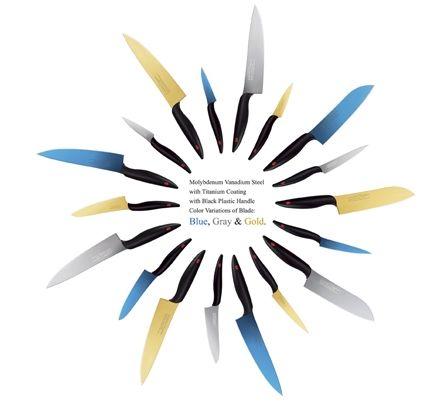 To improve corrosion and abrasion resistance, a titanium coating is applied to molybdenum vanadium steel that features excellent rust resistance and sharpness. Seki's skilled artisans achieve a clear cut and functionality by finishing each blade precisely.
The color variation includes blue, gray, and gold. The knife can add a decorative accent to the kitchen. In 2006, this "KASUMI Titanium Series" won the DESIGN PLUS Award at the Ambiente Messe in Germany.

Item number
No.22020/B No.22020/GR No.22020/G
Manufacturer
SUMIKAMA CUTLERY MFG.CO.,LTD.
URL
E-mail
Product Information
No.22020/B 20 cm Chef knife (blue)
No.22020/GR 20 cm Chef knife (gray)
No.22020/G 20 cm Chef knife (gold)
Material:
Blade - titanium-coated molybdenum vanadium steel
Handle - PP resin
Entire length: approx. 34 cm
Blade length: approx. 20 cm
Weight: approx. 125 g
Intended use: mainly cutting meat. It also can be used to cut vegetables.

Comment
For details, please see the company website.
CUT004602