Vflex
A little small, a little lightweight, and a little thin knife provides sharp cutting. The playful design is part of a lively and joyful kitchen.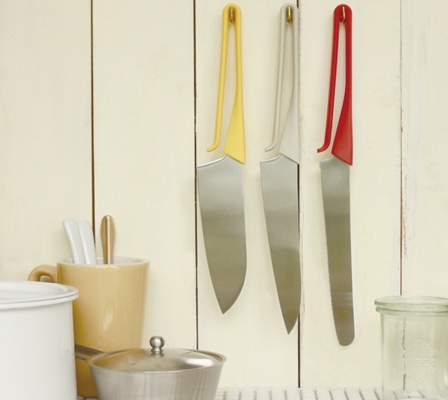 Vflex is a knife with a unique handle designed by a Finnish designer, Mats Lonngren, in the motif of a Japanese thread cutter. The handle comes in seven Scandinavian colors. The cushioning property offers a gentle and comfortable grip, which will make you smile every time you use it. Your kitchen will look more lively and enjoyable when this colorful knife is hung on a hook. The sharp, thin and small stainless blade is perfect for use by women and children, or at the table. The Vflex features six properties, including the quality of a carefully and domestically-produced knife, reasonable price, sharpness, design, color variations, and storability.
Manufacturer
Shizu Hamono Co., Ltd.
URL
http://www.shizuhamono.net/english/
E-mail
Product Information
Material: handle – polyproprene
blade – stainless steel 420J2
Variations: Santoku knife, petty knife, bread knife
Color: yellow, green, orange, red, blue, ivory, brown

CUT007603