Art Sword Kuroishime/Metal Carving Samurai Series - Black
Precise and heavy, this decorative sword is as powerful as a genuine one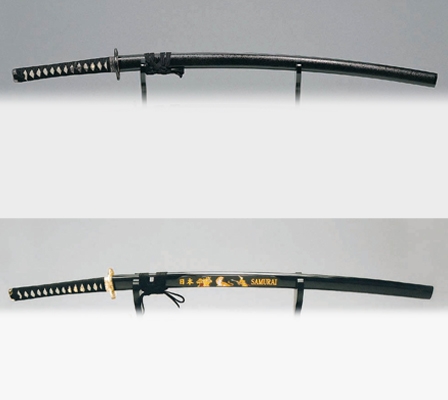 The city of Seki is known as an area where a number of swordsmiths have worked over the last 800 years. The essence of blade forging, which has been cultivated during its long history and tradition, is now fully reflected on this art sword. You will see an amazing level of perfection in the beautifully finished details of each part as well as the weight. The "Kuroishime" is one of the most popular types of sword sheath with its matte black finish. The Metal Carving Samurai Series Black has the Chinese character of "Samurai warrior" and Japanese motifs carved on the glossy black base.
Item number
Kuroishime:SW-100(DR)
Chokin Samurai-Black:SW-2400L(DR)
Price
JPY 8,000
Manufacturer
OHZAWA SWORDS CO., LTD.
TEL
+81-575-22-1728
URL
E-mail
Product Information
Material: Sword body/guard/metallic parts - special alloy
Sheath - Magnolia
(finished by urethane coating)
Handle - resin
Handle wrapping/strap - artificial silk

Size: whole length - 105 cm
blade length - 71.5 cm

Weight: approx. 1200 g
(approx. 700 g without a sheath)

Design:
Sheath - Kuroishime Metal Carving Samurai Series and others
Blade - standard blade or dragon blade (DR=Engraved Dragon)
* For details about the design, please see our website.

Comment
- The listed Japanese sword products do not have an edge. They therefore require no registrations or licenses to possess.
- The Iaido sword series is suitable for practice swings.

CUT009001