Shirakawa-go Pure Rice Ginjo SasaNigori-zake
Pure Rice Ginjo (premium brew sake) that is slightly cloudy with a hint of unrefined Ginjo and as enjoyable as refined Ginjo.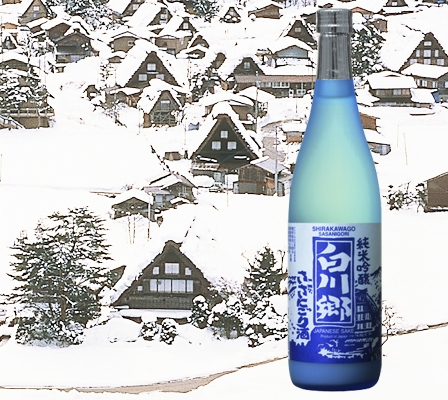 By adding a small amount of unrefined Ginjo to the sharp taste of pure rice Ginjo, this sake fills the mouth with the taste and aroma of rice, with clear and delicate aftertaste. SasaNigori-zake is a perfect pairing with a variety of dishes. Even though it is included in the range of Shirakawa-go Nigori-zake (unrefined sake), you may feel like you are drinking refined sake. SasaNigori has been well received not only in Japan but also in the USA and in Asian countries.
Item number
SK720
Manufacturer
Miwa Shuzo Co., Ltd.
TEL
+81-584-78-2201
URL
E-mail
Product Information
Volume: 720 mL
Materials: Domestically-produced rice, rice malt and water
Alcohol content: 15–16%
Nihonshudo (Sake Meter Value): ±0
Percentage of rice milling: 60%
Taste: Semi-dry, light-flavor
Expiration date: 270 days

Comment
- Recommended to drink on the rocks or serve chilled.
- Store away from direct sunlight and hot/humid conditions.

FOD002001