Sake Brewer's Hidagyu-Shigure; "Kiri," "Ayame"and "Aoi"
Excellent Shigure dish made of renowned, high-quality "Hida Beef" of Gifu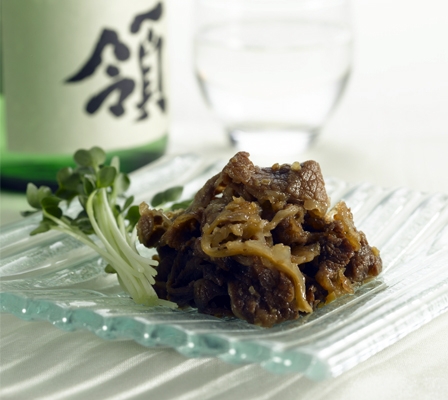 Hida beef comes from cattle raised by the local cattle farmers of Hida region in Gifu, who are nature-loving and experts in cattle fattening techniques and their natural surroundings. Hidagyu-shigure is made in our food processing facility with care and strict food safety precautions. This is a luxury food item with condensed flavor of Hida Beef. It is perfect as a souvenir from your travels or as a gift for foodies. It also goes perfectly well with alcoholic beverages.
Item number
「Kiri」271030 「Ayame」271031 「Aoi」271032
Price
Kiri: JPY 1,600; Ayame: JPY 2,400; Aoi: JPY 3,200
Manufacturer
Tenryou Foods Co., Ltd.
TEL
+81-576-52-1515
URL
E-mail
Product Information
Volume: Kiri: 100g; Ayame: 150g; Aoi: 200g
Ingredients: beef produced in Gifu, soy sauce, sugar, refined sake, ginger (some ingredients contain wheat, beef, and soy beans)
Expiration date: 180 days from the production date

Comment
- Won the Chairman's award for the 2008 Recommended Souvenir Selection by Gifu Prefectural Tourism Federation.
- Store at room temperature away from direct sunlight and heat/humidity.
FOD005202