Yuzuyo
Kaminoho traditional and rustic family food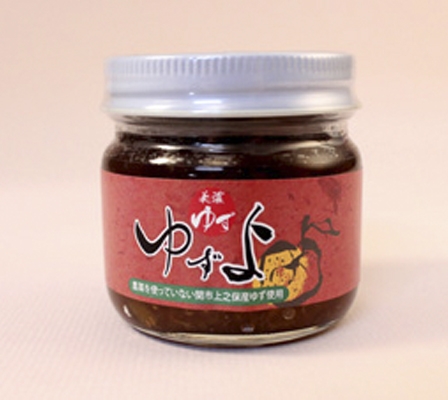 This Kaminoho specialty, "Yuzuyo," is made by simmering ingredients such as yuzu peels, soy sauce, and mirin rice cooking wine, until they become a paste. It goes well with cooked rice, boiled Japanese radish, fresh cucumbers, and more.
Manufacturer
Kaminoho Yuzu Co., Ltd.
URL
E-mail
Product Information
Ingredients: yuzu citron peels, sugar, chili peppers, mirin (sweet rice cooking wine), sake, and soy sauce
Volume: 80g
Expiration date: one year from the production date

Comment
- Store away from direct sunlight.
- Once opened, consume it as soon as possible.

FOD007203