Japanese Maple Tea (Momiji-cha)
World's first tea made from Japanese maple leaf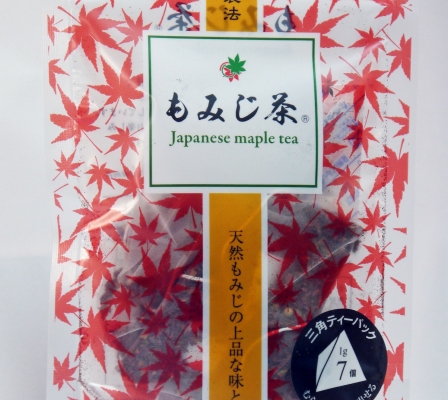 World's first tea made from Japanese maple in Tajimi City, Gifu.
- Japanese maple is an aesthetic symbol of Japan.
- Contains polyphenol (15%), lutein and beta-carotene.
- Color of tea changes when you add a drop of lemon or Yuzu citrus juice.
- Low in caffeine (29mg/100g, approximately 1/200 of green tea) 
- Processed using the traditional high-quality Shirakawacha processing method.
- Great to pair with both Japanese and Western sweets
- Japanese maple has been researched for their anti-obesity and anti-aging properties.
Item number
0002
Price
JPY648
Manufacturer
Maple Laboratory Inc.
TEL
+81-572-44-7950
URL
https://www.momijikaedelab.jp/
https://www.momijikaedelab.jp/english/
E-mail
Product Information
Ingredients: Japanese maple leaves
Packaging Material: PE, PP and PPT. Dimensions: 110 x 30 x 180 mm
Net Weight: 8.4 grams, Gross weight: 15 grams
Box Material: Cardboard. Dimensions: 160 x 250 x 190 mm
Net Weight: 375 g (25 packs)
Gross Weight: 513 g (25 packs)
Shelf Life: 18 months (Stored at room temperature)
Storage: Keep in a cool, dry place away from direct sunlight.
FOD010802